---
The Brighteon.com free speech video platform has announced the integration of Monero (privacy crypto, see GetMonero.org) as a tipping system so that users who wish to support content creators can send them Monero coins.
Monero is the most mature and widely-recognized privacy cryptocurrency, meaning that its blockchain does not readily reveal wallet IDs (unlike with Bitcoin), so that users' transactions remain hidden. This is achieved through clever protocols such as "ring signatures" and other algorithms that are far beyond the scope of this announcement. Essentially, Monero is private digital money, where Bitcoin is public (transparent) digital money that allows everyone to see your wallet activities.
As the founder of Brighteon.com and Brighteon.TV — both of which emphasize free speech — I am excited to be able to make this announcement, which will be the first of many more yet to come. Ultimately, we hope that Brighteon.com will allow content creators to accept tips in half a dozen privacy coins.
The tipping mechanism is simple: A content creator enters their Monero wallet receive address in their account dashboard (go to Dashboard -> Settings and look for "Monero" wallet field in the left column). This causes a "tip crypto" button to appear beneath all their videos. When a user clicks that button, the wallet receive address and QR code for their Monero wallet pops up and is easily scannable by all mobile wallets that support Monero. Here's an example using my own channel: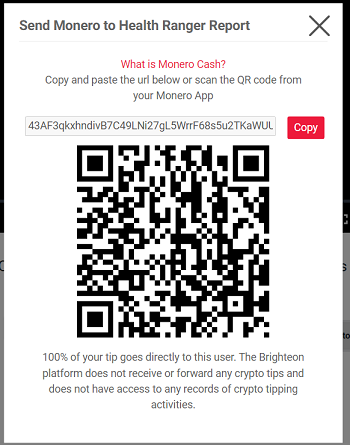 In keeping with best practices to protect your privacy and security, we recommend that users deploy one wallet solely for receiving tips (or a unique receive address in that wallet), but use a different wallet for spending and holding Monero. In other words, add an extra layer of privacy protection by separating Monero wallets for different purposes. Don't conduct your spending from the same wallet address that you're publishing on Brighteon to receive tips.
How it works: Content creators keep 100% of the tips (and we have no log files of tipping transactions)
As you may have realized, the structure of this simple tipping system means that content creators keep 100% of the tips sent to them, since these are P2P transactions that don't go through our servers. We have no knowledge, logs or records of tips sent this way, since we do not take custody of any Monero during the transaction. The only record of the transaction is on the Monero blockchain itself.
We encourage users who receive tips in this fashion to realize that their local tax authorities that may consider such tips to be income for tax purposes. At the same time, since we do not track these tips in any way, we have no information to report to any tax authorities.
At Brighteon, we choose to support privacy cryptocurrencies because we believe that privacy is a basic human right and that it's no one's business what you do with your own money.
We also believe that privacy crypto is for everyone, including people of every persuasion, political leaning, gender, color, ethnicity, religion and so on. Although the Brighteon platform tends to attract more conservative or libertarian content creators, we believe that private money is for everyone. It is a universal human right that all people should celebrate and embrace.
In an age of secret government surveillance over Americans, Canadians and Europeans, the need for private digital money is greater than ever. That's why I'm launching a new show on Brighteon.TV called Decentralize TV which focuses on applying decentralization solutions to help defend and expand human freedom for all people. The website Decentralize.TV will be launched later this week, carrying the show's first episode.
We spent over a year trying to build a fiat currency tipping system and ultimately trashed it
I've been talking about a tipping system for Brighteon.com for quite some time. We spent easily $200K+ and over a year building and testing a fiat currency tipping system that would allow people to buy tokens with a credit card, then they could gift tokens to content creators who could redeem those tokens for a payout in fiat.
However, this entire system made us the custodians of other people's money. It also put us in the position of needing to record transactions and report transactions to taxing authorities. Finally, it could cause us to be accused of all sorts of nefarious things such as withholding people's money if payouts failed, for example. Given that the fiat currency banking system is becoming increasingly unstable with each passing day, I made an executive decision to trash the entire fiat currency tipping project and embrace crypto tipping with an emphasis on privacy coins.
Interestingly, incorporating Monero as a tipping system only required a tiny fraction of the time and resources we had already spent on building out a fiat tipping system. If we had chosen to go with Monero earlier, we could have had this done long ago. (Lesson learned. Never try to work with fiat currency systems when crypto is far easier…)
Having successfully integrated Monero, we will now expand the list of privacy crypto coins that are natively supported by the platform. Binance made this really easy for us by publishing a list of privacy coins that they banned from their exchange. We simply took that list and started contacting all those projects to have them listed on Brighteon.
Where do you get Monero in the first place?
If you're wanting to acquire Monero so that you can tip content creators, there are many ways to do so. Perhaps the easiest is to first buy Bitcoin from any KYC exchange (such as Binance, CoinBase, Gemini, Kucoin, etc.) and then use a swap service to exchange BTC for XMR (Monero). SimpleSwap.io is an easy-to-use swap service, and there are many more. We hope to invite swap service providers to our new show Decentralize TV so they can teach us more about their services.
On some exchanges, you can buy Monero directly. For a Monero wallet, check out GetMonero.org for a list of different wallets for different platforms.
For full transparency, yes I personally hold some small amount of Monero and most other privacy coins. Since I am in the process of testing and using these various coins, I am running lots of various wallets and using many different coins.
As of today, I haven't yet spoken with anyone from Monero about their project, but I've watched many online videos about Monero. What's noteworthy is that since Monero is decentralized and not run by a corporation with a CEO, I didn't need to speak with anyone about the project to start supporting it. I trust the code to execute as it is written, and I know that math works. I don't need to trust individual people in order to trust the Monero ecosystem, which is exactly as intended because privacy coins are supposed to be trustless mechanisms and tools. It doesn't mean that Monero hasn't ever experienced a bug or a failure, but there are strong incentives across the Monero community to solve problems and keep the project moving forward. This same principle is also true for Bitcoin and many other projects.
On another note, we are already in contact with the SEC to see if they can provide a spokesperson to join our show and answer some questions. So far we don't have a commitment from them, but we are talking to them and hoping to achieve that.
The intrinsic value in cryptocurrency comes from using it for practical applications
I was a long-time critic of crypto FOMO, speculative hype and get rich quick schemes (FTX, anyone?). In the post-FTX crypto world, however, I see very clearly that the intrinsic value of cryptocurrency comes from using it in practical ways (such as an online tipping system). This is why very soon, our online stores (such as BrighteonStore.com) will also accept Monero as payment for store orders, expanding into other cryptos as payment mechanisms are integrated.
The fact that Monero is a privacy coin also adds additional intrinsic value. Privacy has value. Storing assets that are very difficult to have confiscated has its own value. Being able to send digital money anywhere in the world without government controls is valuable. Fungibility of coins has value, too. For these reasons and many more, I believe that privacy coins have far more utility than Bitcoin itself, even though Bitcoin has a prominent role to play in global digital money, and I hope Bitcoin becomes the global digital reserve currency because governments can't easily cheat the Bitcoin ledger system. (Governments can't just print more Bitcoin, for example).
But for day-to-day transactions, privacy coins are far more suited than Bitcoin in my experience. For example, you can display your Monero receive address online without fear of someone taking that address and discovering your entire spend history and wallet balance. With Bitcoin, it's all public information with no automatic privacy, but with Monero, privacy is built into every transaction.
Personally, I think institutional assets can be held in BTC, but personal assets need more privacy. Since nefarious governments are already freezing or seizing bank accounts of people they don't like (i.e. those who express dissent against the regime in power), privacy is becoming absolutely essential for personal financial assets.
Remember: If the government can confiscate your money (out of your bank, for example, which they can), you don't really own that money. Ownership requires control. Only with privacy coins do you have real control over digital money. That's why I think privacy coins have the brightest future among all crypto projects. It's also why I'm highlighting these projects on my new show, Decentralize TV.
Together, we can build the infrastructure for human freedom. And we're doing our part on Brighteon.com with many more announcements yet to come.
Hear today's Brighteon Broadcast News for more details on banks, currency and crypto
– Blackrock ETF is a Trojan Horse attempt to hijack Bitcoin
– Big Banks want to control crypto, on ramps, off ramps, wallets and exchanges
– It's all about surveillance and centralization of control
– It violates the original vision of Bitcoin as P2P, decentralized,
– PRIVACY coins will become even more valuable and important
– Humanity will be forced to choose between decentralized digital money (freedom) and centralized digital money (slavery)
– Basic crypto skills you need to  master to protect your assets
– ALL forms of money have a history of scams and rug pulls (especially the dollar)
– Details about my new show Decentralize TV
– Full interview with Mark Sherwood, naturopath and former SWAT sniper
Brighteon: Brighteon.com/056731bb-6fce-4a41-af54-75ebd39ba6fd
Rumble: Rumble.com/v2wfy0i-bbn-june-26-2023-crypto-power-grab-as-blackrock-fidelity-and-banksters-unle.html
Bitchute: Bitchute.com/video/DJPP1xmmsJwd/
Banned.Video: Banned.video/watch?id=64998cbb0b6e7bd9e2a4a250
iTunes podcast: Healthrangerreport.com/brighteon-broadcast-news-june-26-2023-crypto-power-grab-as-blackrock-fidelity-and-banksters-unleash-plan-to-dominate-digital-currency
Discover more interviews and podcasts each day at:
https://www.brighteon.com/channels/HRreport
Follow me on:
Brighteon.social: Brighteon.social/@HealthRanger (my breaking news gets posted here first)
Telegram: t.me/RealHealthRanger

Substack: HealthRanger.substack.com
Banned.video: Banned.video/channel/mike-adams
Truth Social: https://truthsocial.com/@healthranger
Twitter: still BANNED by Elon Musk

Gettr: GETTR.com/user/healthranger
Rumble: Rumble.com/c/HealthRangerReport
BitChute: Bitchute.com/channel/9EB8glubb0Ns/
Clouthub: app.clouthub.com/#/users/u/naturalnews/posts
Join the free NaturalNews.com email newsletter to stay alerted about breaking news each day.
Download my current audio books — including Ghost World, Survival Nutrition, The Global Reset Survival Guide and The Contagious Mind — at:
https://Audiobooks.NaturalNews.com/
Download my new audio book, "Resilient Prepping" at ResilientPrepping.com – it teaches you how to survive the total collapse of civilization and the loss of both the power grid and combustion engines.
Submit a correction >>